标题:夔之墨
年份:2020
尺寸:47.28 x 70.85 cm
---
Title: The Ink of Kui
Year: 2020
Dimension: 47.28 x 70.85 cm
---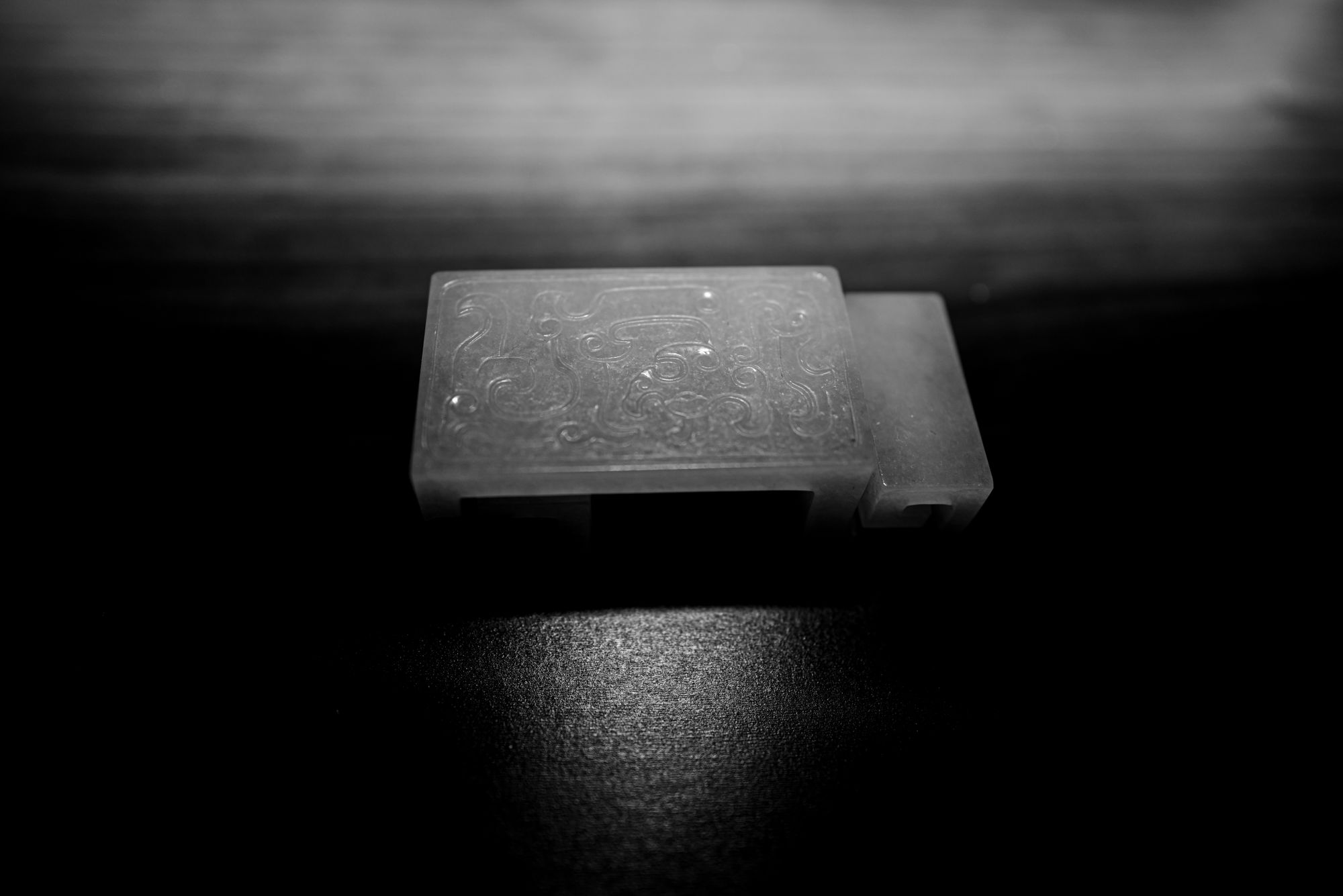 ---
此物件为我的收藏,清朝时期的翡翠雕夔龙纹墨床。
此件墨床整体为回纹形,轮廓清晰,造型典雅大方,为清代经典墨床样式。
墨床古雅秀美,表面装饰夔龙纹,质地莹润,带有隐约翠绿色肌理条纹,悦目清新。
墨床从单纯的承墨用具发展到可供赏玩的艺术品,除具有精、巧、雅的鲜明特征外,其文化内涵在融入了文人个性化的追求后便更加丰富。遗憾的是墨床在文房用具的传世品中最为少见,故而十分珍贵。
This object is my collection, the jade carved Kui dragon pattern inkstick stand of the Qing Dynasty.
This inkstick stand is in the shape of fretwork with a clear outline and elegant shape. It is a classic inkstick stand style of the Qing Dynasty.
The inkstick stand is quaint and beautiful, the surface is decorated with a dragon pattern, and the texture is lustrous, with subtle emerald green texture stripes, which is pleasing to the eye and fresh.
The inkstick stand has evolved from a simple ink-bearing appliance to a piece of art that can be enjoyed. In addition to its distinctive characteristics of delicacy, ingenuity, and elegance, its cultural connotation is richer when it is integrated into the personal pursuit of literati. It is a pity that the inkstick stand is the rarest among the handed down articles of the four treasures of the study, so it is very precious.
---
版权所有,未经许可,请勿擅自使用此图,侵权必究。
All rights reserved; those responsible for unauthorized usage and reproduction will be prosecuted.
©️ Boshan Zhou.